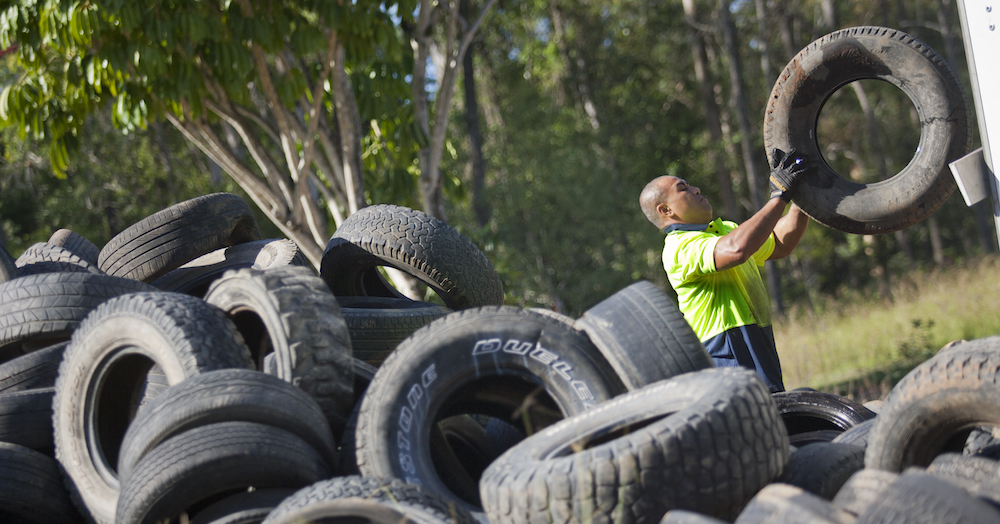 Ever wondered what happens to your tyres once we collect them? Here is a great article that has recently been written by Tyre Stewardship Australia.
Tyre Stewardship Research Fund will help deliver improved Explosives. Funding provided by Tyre Stewardship Australia is helping the development of more stable and powerful explosives for use in mines and quarries across Australia.
The use of end-of-life tyre-derived rubber crumb offers a more stable compound, more predictable velocity of detonation as well as considerable environmental benefits.
Chip-Tyre, a tyre recycler based in Queensland, has been working on that application for some time and, with assistance from TSA, will undertake explosive testing and work on mobile manufacturing units.
Together with BioAust Energy, Chip-Tyre and has developed an explosive that includes rubber crumb. The product promises to be 20% more efficient than traditional Ammonium Nitrate/ Fuel Oil mixtures and can be utilised in a wider range of soil humidity and conditions. The companies are also developing on-site mixing equipment that will allow for the explosives to be created on demand and on site.
The TSA funding will allow for field testing and the further refinement of the on-site mixing equipment and processes. The resulting products will potentially offer enhanced safety and efficiency and a valuable outlet for millions of end-of-life tyres every year. With the first round of R&D funding fully subscribed, the Tyre Stewardship Research Fund has invested in 9 projects with a total value of over $1.2milion.

The projects have included crumbed rubber asphalt, storm water pavement, rail track ballast enhancement, use in lightweight concrete building panels and the creation of totally new "super-composite" materials for steel strengthening.
TSA Research Fund grants are allocated by a highly qualified TSA Research Advisory Committee. R&D funding is one of the three principal aims of the organisation, along with industry and public education and administering The Tyre Product Stewardship Scheme with its accompanying accreditation program.
To date over 1200 tyre retail outlets nationwide have become TSA accredited as have collectors and recyclers representing over 70% of the volume of end-of-life tyres collected in Australia each year.
For further information, please contact us today.